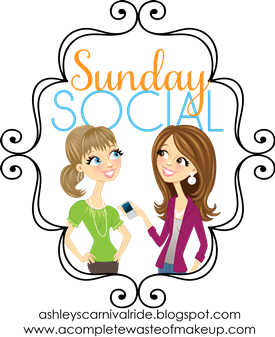 Linking up for Sunday Social. This one is all about blogging!
What is the name of your blog and how did you come up with it? The name of my blog is Stephanews. If you couldn't guess, my name is Stephanie. My blog is about what's new in my life. I thought it was clever.
What do you love the most about blogging? Like I'm sure everyone else says, meeting new people. I love getting to know new people by catching a peek into their lives. And of course, finding new ideas, styles, and recipes.
What are your two favorite posts you've written?
My
yoga bag
, because I think it's pretty awesome. And my
wedding post
. I love telling the story of my wedding. :)
What is something you'd want to tell someone just starting out in the blog world? Well I'm kind of new to the blog world, so I don't have a lot of sage advice. But I would say connect. If you want people to be reading and commenting on your blog, you have to do some reading and commenting. Put yourself out there and get to know people.
Biggest blogging learning experience? I don't know that I've had any groundbreaking experiences. I would probably say learning the advice that I gave above. And finding linkups. :)
Today I am getting installed as preschool teacher. Today is also the first Packer game of the season...and I still don't care. But J's dad is having a big party, which will be fun. I hope you all enjoy your Sunday!
xo Steph