Linking up again for Sunday Social. All about books this week!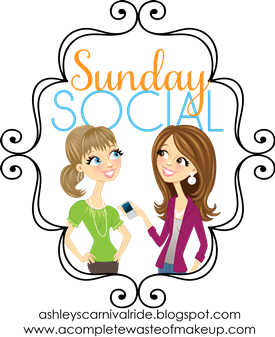 1. Favorite childhood book: I really liked the Nancy Drew books. My grandma would read them too me until I was able to read them myself. Even then we read them together quite a bit.
2. Favorite book lately: Well, my favorite book has been The Outsiders since middle school. But something I've been reading lately that I really like is the Percy Jackson series.
3. Book you wish you could live in: I'm sure this is not going to be a very unique answer, but I have to say Harry Potter. Getting that letter in the mail on your eleventh birthday, going to school in a castle, using a wand, apparating? Sign me up.
4. If you could be any character from a book who would it be and why? Claire Randall (Fraser) from the Outlander series. This chick gets tossed back to 18th century Scotland where she meets and marries a rugged, red-headed Scottish lad and tries to change the course of history. I love these books.
5. Favorite book that was turned into a movie? This is a tough one. I really liked the first Sisterhood of the Traveling Pants movie. I loved all of the books, but I thought the second movie super sucked.
6. Favorite magazines?
I don't read many magazines. Except for Cosmo occasionally and tabloids in line at the grocery store. I'm partial to People and US Weekly. :)
I think a blanket and a book will be the perfect companions this cold, rainy Sunday. I hope you all enjoyed your weekend!
xo Steph