Oh geez, guys. I'm so behind. I have so many posts to write and so many things floating around in my brain that I wanted to share with you. I feel like such a dirtball when I don't blog for so long. Because I start coming up with lame lists of excuses. The most recent being: this is the first time in over two weeks that I've been able to use my computer...my technology whiz of a husband took it all apart this weekend and hopefully fixed the problem. So let's Sunday Social it up, shall we?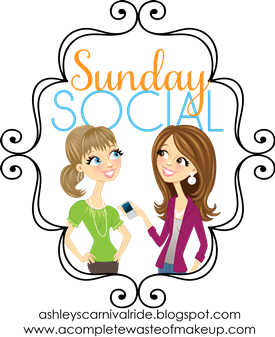 1. What is your favorite holiday tradition?
When my cousins and I were young my grandma always used to buy a birthday cake with "Happy Birthday Jesus" written on it. We haven't done that in a while, but I always thought it was cool. Otherwise, we always just go to church, have dinner, and open presents with my family. This year I'm looking forward to spending the holiday with J and developing some of our own traditions.
2. Do you have a certain holiday movie you watch more than others? A Christmas Story. I also really like Elf and the Jim Carrey version of The Grinch. But A Christmas Story is my favorite and I watch it almost every year.
3. Show us your favorite decoration or pinterest decoration you wish you could have:
Well, this is our tree. I can't for the life of me get this picture to upload the right way so please, turn your head and direct your attention to the angel at the top. It is my favorite decoration. :)
4. What is your favorite holiday song? If you know me, you know that I have a really hard time picking a "favorite" anything. I'm very indecisive. But I enjoy Oh Holy Night, Silent Night, and the instrumental version of Sleigh Ride.
5. What is your favorite holiday dessert?
Peanut butter blossoms (
recipe
). I don't know if these are an official "holiday" dessert, but my grandma always makes them at Christmas and I
love
them.
6. What is on your wishlist? Isn't it funny how all year long you think you think of things you need or want until someone asks you? Then you draw a blank. Honestly, I could really use some new clothes. Winter clothes to be specific. And shoes.
That's all for Sunday Social this week! Hopefully I will be back to blogging more regularly now that my computer is running. But for now there is a pile of school work on the table that won't go away so I guess I'd better go do it. I hope you enjoyed your weekend!
xo Steph