I'm linking up again with
Ashley
and
Neely
for Sunday Social. This week it's all about my little bloggity blog.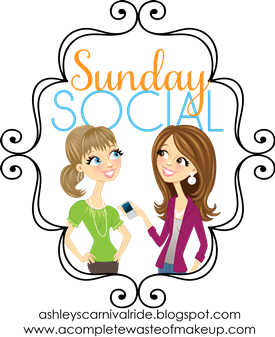 1. What is the name of your blog? How long have you been blogging?
The name of my blog is Stephanews. Catchy, right? Right. I actually just realized when looking for my first
post
that my blog has just turned a year old!
2. Why do you blog?
I blog because sometimes I think I'm hilarious and my real life friends don't always appreciate it. Just kidding. Kind of. I blog because I like connecting with new people and being able to get my thoughts and opinions out.
3. What is the first blog you ever followed?
I believe the first blog I ever followed is no longer in existence. I think the first blog I started following that I still follow is
Amber's
.
4. What is your favorite post you wrote in 2012?
My favorite post is probably my poem about
shoes
.
See? Hilarious.
5. What are your blogging goals for 2013?
Every time I'm asked this question I say I want to be more consistent in my posting. And I do. I also want to continue meeting and creating friendships with new people.
6. Name your top 3 favorite blogs.
Whitney
. This girl is hilarious. I look forward to her posts every single day and laugh out loud at least once whenever I read her blog.
Angi
. She is funny, down to earth, crafty, a good cook, and I feel like I can really relate to her!
It was really hard to pick just 3 but I have to go with
Elle
. She's a thrifty beauty blogger who comes up with the greatest DIY beauty tricks and tips!
That's all, folks. Thanks for being social with me.
xo Steph