Well, friends...not much of a weekend to wrap up for you. Sometimes I feel really lame, but by the time Friday evening rolls around J and I are so burnt out we're not really in the mood to party. Anybody else??
Friday night I was at school until almost 7. We ordered Chinese takeout and caught up on our DVR (J's brother has gotten me really into Suits these days).
Saturday we had to tackle my least favorite chore--grocery shopping. I hate grocery shopping. Most of the time J doesn't let me go with him. But after the horror that is a grocery store on Saturday morning, we made homemade broccoli cheese soup and bread bowls. Holy delicious!! I also finished crocheting a second pair of slippers, and started a new project...
I'm trying to teach myself how to knit. It's hard. Today now that we're up and have been to church, my biggest excitement is linking up for Sunday Social. And a nap. I will probably take a nap.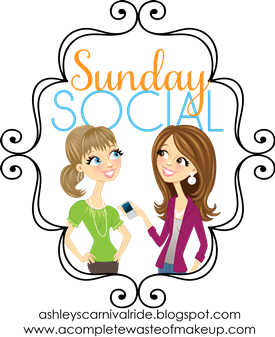 1. Top 3 favorite kinds of food
Potatoes...in any form; mashed, baked, french fries, hash browns, you name it. Chinese food, and ice cream.
2. First 3 things you do in the morning
Pee, take a shower and eat breakfast.
3. Last 3 things you do at night
Lock the door, wash my face, pee.
4. 3 TV shows you NEVER miss
How I Met Your Mother, Big Bang Theory, Pretty Little Liars.
5. 3 places you want to visit
Ireland, Germany, and Washington.
6. 3 people you can always count on
Justin, my mom, my best friend Tiffany.
I hope you all had an exciting weekend...or relaxing...whichever you prefer.
xo Steph