Time for another Sunday Social!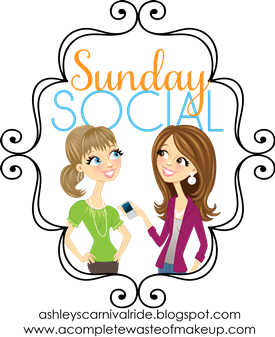 1. Do you plan to change any of your eating habits in the new year?
Well, yeah. With all of the parties, celebrations, and get togethers and happen during the holidays I kind of gave up on paying attention to what I ate (like I'm sure many people do this time of year). Over the break I drank a "Green" juice for the first time, and it was pretty delicious. We've gotten into a pretty bad rut of eating processed junky food and I would like to start eating more clean. (Let's see if we can get J on board with this)
If you haven't tried this, do it. It's tasty.
2. Any workout tips to get us back in shape after the Holidays?
I am definitely not a person to ask for workout tips. The best advice I can give is to just get up and do it (
take my own advice, right??). I'm the queen of excuses and the more I put off working out the easier it is

just not to do it.
3. What is your favorite thing you did over the Holidays?
I really just enjoyed seeing my family and friends. It was so nice to hang out and relax with people I haven't seen in a long time.
4. What is something you hope that you accomplish in 2013 that you did not in 2012?
I'd really like to be more consistent with my blogging. I know I have said this before, but I think it will just be something I'm always working at.
Here's an original thought; I'd like to be more active this year. Yesterday I was flipping through channels on tv (great start, eh?) and actually stopped on an infomercial for the Insanity workout. We used to get a group together and do it in the dorm and I really miss it. I'm not very good at working out on my own and I miss having people to go with.
5. Name 3 things happening this year you are excited about and why.
-Two of my best friends are getting married! I'm so happy for both of them and I can't wait to celebrate with them.
-I'm not positive that this is happening this year, but it's a goal that makes me pretty excited; J and I are
really
doing our homework in looking for houses. We would
love
to be in a house by summer time.
-J and I are taking a little vacation. Well. J is going to a conference and I am going with him to enjoy a few days off of work, a nice hotel room, and a weekend away.
Did your weekend fly by as quickly as mine did?
xo Steph