Well, blog friends, it's time to share the story of the ex. The ex. There was only one guy before Justin.
I had my first date my sophomore year of college. We had the same friends and saw each other a lot. We would do those awkward things like sit too close while we were watching movies with a group, say awkwardly lengthy goodbyes, and drop all kinds of not subtle body language clues. One night after a group of us had walked back from singing (this is seriously what we did for fun; gather up all of the show tunes we owned--which between the group of us was a lot--and sing in the choir room at night) and I had gotten into my pjs, he called me back down to talk. Seriously?
He said he thought I was pretty. And that he would be honored if I would agree to go on a date with him. Guys didn't say that to me, ok? My little heart was exploding. I floated back upstairs on cloud 9. For about a week we went through this awkward "We haven't really started dating...but what in the world are we doing?" phase until we finally settled on a date for our surprise outing.
He took me on a picnic.Well, first he took me to a gas station where we awkwardly picked out picnic food. Then we went into the woods. Obviously I was too twitterpated to realize this was kind of weird. We had an alright time frolicking through the forest and laying in a sun soaked meadow like a freakin Twilight scene. When we got back we agreed to do dinner later and try to get a group together for a movie. By the time I got back upstairs (
because obviously I had to stop at every one of my friends' rooms to spill the details
) I had a relationship request on facebook. *Insert Name Here* would like to be in a relationship with you.
Omigoodness.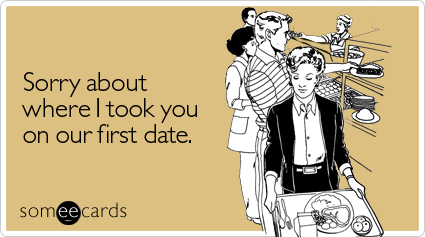 Over the next months it got weird. We took a couple of trips (including a weekend trip to see a Twins game...which really meant I spent the night with his nephew and sister-in-law while a bunch of guys came over to play Dungeons and Dragons.
Clearly this was my clue that this would not end well...
), I spent weekends with his family and he spent part of Christmas break with mine. I watched a lot of D&D games, but never played. We talked a lot less and all of the romantic gestures stopped. I figured this is what happened when the initial buzz wore off and invested even more of myself into this train wreck of a relationship.
One weekend near Easter time I was sick. I skipped school Friday because I was puking. Our college had separate girl/guy dorms and strict visiting hours, but in the early afternoon he called me and said he wanted to come visit that evening. I pulled my sick self out of bed, cleaned up the room and waited. He sat down next to me on the couch and said "I just don't think this is right. I think we should break up".
Of course I was devastated. He gave me a pat on the shoulder, told me he hoped I felt better soon and went on his way. Certainly off to another nerd game. And just when you hope this is where the sad tale ends, it takes a whole new twist. But I'll save that for next time. I'm about to go get my day drink on and block out my bad life choices.
xo Steph