I found this linkup on Michelle's blog and thought it was great. I'm kind of nosy and love reading about what other people are doing. I know I'm not the only one...that's why this linkup exists. Anyway, here's what I'm currently up to.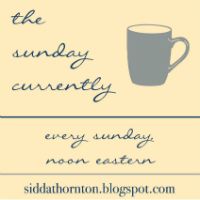 R E A D I N G
I'm still at the same point in
Divergent
as I was when I wrote one of
these posts
last time. I definitely don't take as much time to read as I should. I'm also catching up on blog reading.
W R I T I N G
A meal plan! Yeah!
L I S T E N I N G
to
Boondock Saints
on tv, and Justin's commentary "Ew...oh man...Well that's gross".
Consequently, I'm also currently sitting in a position where my laptop blocks my view of the television because all of the blood and violence in this movie makes my stomach feel sick.
#
whimp
T H I N K I N G
about changing my blog name. To what? I don't know. I'm also considering shelling out the bucks for a blog design.
W I S H I N G
someone would bring me something tasty for lunch so I don't have to get up and find/cook anything.
H O P I N G
I can get through all of the things I need to get done this week without losing my mind.
W E A R I N G
yoga pants, a t-shirt, one pink sock, one blue sock, and slippers.
L O V I N G
the snowman blanket I'm wrapped up in.
W A N T I N G
something to drink. Hot chocolate, in particular.
N E E D I N G
to watch some more
Breaking Bad
before the last episodes come on Netflix
F E E L I N G
sleepy, and cold.
What's going on with you currently??
Xo Steph