What a delightful weekend this has been! I had Friday off so I slept in, baked cookies, cleaned up around the house, caught up on blogs, and finally got Justin to watch Pitch Perfect
and he loved it
. Saturday we went to see a community theater production of The Sound of Music.
Like the photobomb from the founders of the theater?
This week I have a two day week. I don't have any lesson plans or prep work to do so I just get to spend the end of my weekend relaxing, so I thought I'd join in the Sunday Currently.
Watching: The Office. I think this is the third time we're making our way through the series.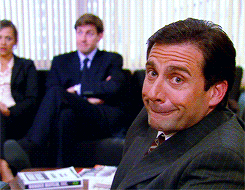 Writing: Notes in my calendar. Does that count? There are a lot of busy weekends coming up and a lot of things to do.
Drinking: A coke. And wishing I could share one with my BFF like the can suggests!
Needing: To get back to the gym. Zumba has been on a hiatus because the instructor has been out of town and has needed to cancel for various reasons. In the absence of Zumba, I have kind of fallen off of the workout wagon.
Excited about: Celebrating a dear friend's wedding this weekend and seeing a lot of friends I haven't seen in a while.
I hope you are all enjoying your weekend. What are you up to currently?
Xo Steph